Atet is an acronym that stands for "Anything and everything", because that is what we do! Atet Construction Group is located in Goodfield, IL. Since the 1970's, our work can be seen all across central Illinois. From Bloomington, Peoria, Morton, Washington and everywhere in between, our new homes and remodels have been a true test of quality throughout time.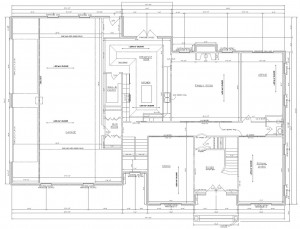 We were one of the first contractors who poured basement walls rather than have them blocked, thus preventing the moisture problems associated with masonry type basements. Our "diagonal" under ground drainage structure is still the best in the business, virtually eliminating leaking basements due to hydraulic water pressure issues. Not one of our new homes has ever had a water issue in over 30 years of being in the business! Many of our basements are so tight, they don't even need sump pumps.
Our finished basements are like no others! We won't use drop ceilings but rather drywall them to match the quality of your main floor. Most people think that finishing the basement ceiling with drywall will close-off future chances for any additional add-ons that may be needed in the future. That's not so with us! We have hidden provisions that allow access into the ceiling if ever the need should arise.
The basement is the cheapest way to add more room (per square foot) in your home and we make it look like a whole new floor! We also build room additions & remodel kitchens and bathrooms Too.
Feel free to speak with us if you would like for us to help you with your ideas.  We can build simple or complex homes that cover all price ranges. We are fully insured and have references on hand.   If you would like to contact us, please call us at 309-938-4953 or email us: Contact Us